50th Birthday Cake
"This page has more great
50th Birthday Cake ideas!"
What does one do when they turn 50? Have a party of course, but one cannot have a party without having an amazing 50th birthday cake.
The cake for this occasion has to original and dedicated to them turning a half century old.
Here are some amazing designs and thoughts for when you or someone you love turns 50.
This one is a great one for the grandma. Have a three tier round cake (or more if needed). The bottom layer would have pictures of each grandchild and or great grandchildren (this would be where more tiers would be needed). Nowdays you can actually put pictures on cakes. Each picture would be in a frosting picture frame. Then the next would be of your children. Then finally the top would be of you and your husband (if you want). And a little old lady sitting on top with her hairdo made in to a big 5 0. Another thing you could do is a time line of her on each tier.
Another great 50th birthday cake idea for that special someone turning 50 would be a garden cake. My grandma loved flowers and turning her backyard into a beautiful garden. So this cake would have flowers around the outside of it. On top would be a green field with a path leading to a wood bench. Next to the bench would a big tree shading it. You could say "Happy 50th Birthday -- May your garden continue to grow."
Create Personalized Stamps For Sending Out A 50th Birthday Party Invitation: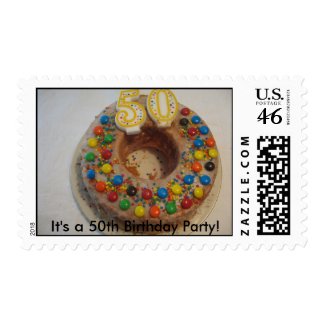 50th Birthday Party Stamps
by
ljpoche
Browse other
Custom Postage
Of course there are some for those who like a laugh. You can have a regular sheet cake, put some black balloons on the top corners of the cake. Underneath the cake make it look like a check. You will write "pay to the order of" the put ONE Billion Birthday Wishes." And then of course happy birthday.
There is also the classic 50th birthday cake. This one has one piece of the cake shaped like a 5 and the other like a 0. You can do all kinds of different things with them. Have it with white icing, black, pink, or whatever color they may like. Add flowers, golf balls, bingo, or what ever hobbies they may have. You never really can go wrong with having a cake shape like the number 50.
Last but not least you have a design for those who believe turning 50 means a new start. Picture a cake that have a license plate on the front that says "O to 50" and right below that it says "half century." On top of the cake stands a little bald man washing a motorcycle. And on a stool is a paper that says Pa is 50 today. And then each corner is surround by candles. Now that is saying I may be getting old, but I am still young at heart.
I hope these designs give you some ideas on what you can do when someone you care about turns 50. And there are so many more ideas and design out there. Good luck and have fun.
Here are some other 50th birthday cake ideas.
Return from 50th birthday cake to the Birthday Cakes page